Since we switched recently to a larger server infrastructure and do host all our services by our own in a dedicated data center, we thought about offering other clans or communities a possible support option.
If you are looking in example for a game server for a limited time or want to trial how it is to host your own game server, we can offer you your personal server setup if needed.
Wonder how this would look like?
Since we do run servers for mutliple games felt like ages, we purchased desired hosting software and the control and monitoring of your server will be done by the TCADMIN hosting project, known and in use at half of all game server providers worldwide.
You would receive a dedicated login link among username and password and you can control your server indepent from our staff members. If you would encounter problems you can issue support ticket messages and our members will take care for your request.
Some sample pictures of the control panel: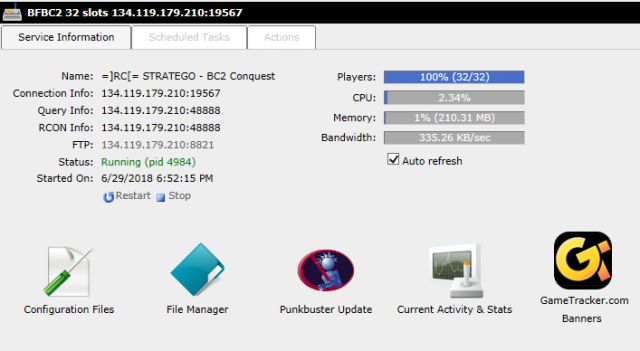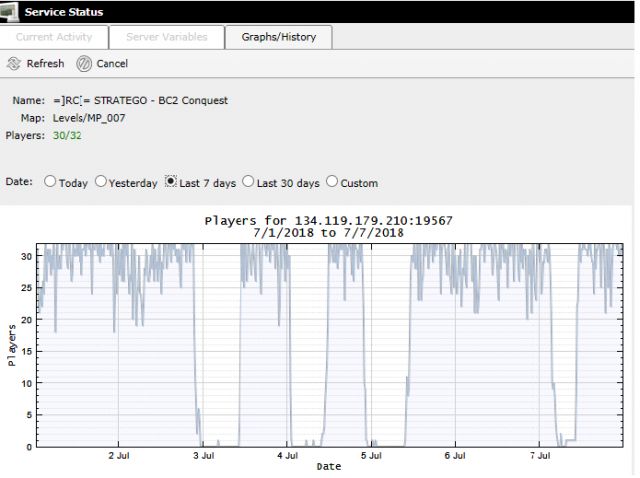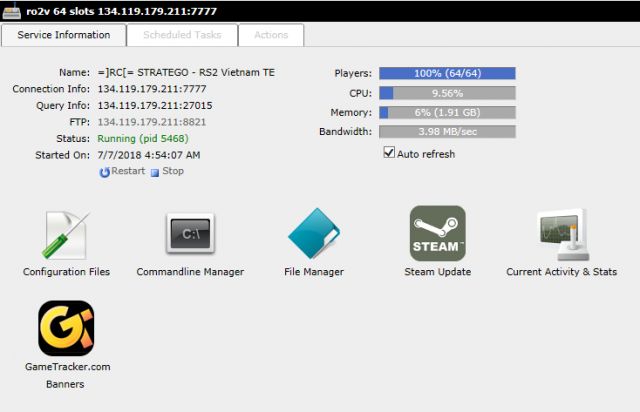 We believe this is a valueable offer to support smaller sized clans/communities not interested or able to finance a certain game server on their own funds, or simply looking for a "docking station" such as our ClusterWars Gaming Technology structure, instead struggling alone at public providers.
If we can help you further will be determined on an individual base, since a couple of requirements will be needed. In example we need to decide if our current hardware structure allows to add a server of your particular request. We need to check if we are technically offering the game of interest you are looking for and more ...
If you want to know if you can utilize this offer for your own game server, please register at this web site and contact me directly using the
PM (private message)
option.
und den ganzen Text nun nochmals auf Deutsch
Da wir vor kurzem auf eine größere Server-Infrastruktur umgestiegen sind und alle unsere Dienste selbst in einem dedizierten Rechenzentrum hosten, haben wir uns überlegt anderen Clans oder Communities eine mögliche Unterstützung anzubieten.
Wenn ihr beispielsweise für eine begrenzte Zeit nach einem Gameserver sucht oder einfach nur ausprobieren möchtet wie es ist einen eigenen Gameserver zu hosten, bieten wir euch bei Bedarf einen eigenen Server an.
Du fragst Dich wie das aussehen würde?
Da wir unsere eigenen Server bereits für eine gefühlte Ewigkeiten betreiben, haben wir die gewünschte Hosting-Software gekauft und die Steuerung und Überwachung eures Servers übernimmt das TCADMIN-Hosting-Projekt, welches bei der Hälfte aller Gameserver-Anbieter weltweit bekannt und im Einsatz ist.
Du erhälst einen eigenen Login-Link wie gewohnt mit Benutzername und Passwort und kannst Deinen Server selbständig steuern. Bei Problemen könnt ihr Support-Ticket-Nachrichten senden und unsere Mitglieder werden sich um die Anfrage kümmern.
Einige Beispiele wie die Bedienoberfläche aussiehst, siehe oben im Englischen Text.
Wir glauben das dies ein wertvolles Angebot ist um kleinere Clans/Communitys zu unterstützen, welche nicht daran interessiert oder in der Lage sind sich mit der Anmietung eines Spieleservers bei etwaigen offiziellen Anbietern zu befassen und einfach nur nach einer "Dockingstation" wie unserer ClusterWars Gaming Technologie-Struktur suchen.
Ob wir weiterhelfen können wird individuell entschieden, da einige Voraussetzungen erforderlich sind. Als Beispiel müssen wir entscheiden, ob unsere aktuelle Hardwarestruktur es zulässt, einen Server für eine spezielle Anfrage hinzuzufügen. Wir müssen prüfen, ob wir das gesuchte Spiel technisch anbieten und einiges mehr ...
Wenn Du wissen möchtest ob und wie Du dieses Angebot für einen eigenen Spielserver nutzen kannst, registriere Dich auf dieser Website und kontaktieren mich direkt über die
PM (private Nachricht)
-Option.